Elise quite rightly pointed out that eliseandthomas.com was turning into eliseand…. and so I zealously searched for a solution to my annoying habit of never writing down what would (undoubtedly) be fantastic blog entries.
In an effort to fix this sorry state of affairs I snapped up the mechanical wonder known as the Vanishing Point. For those of you who do not belong to the inky finger club (join us….) the Pilot Vanishing Point is particularly interesting due to its "deployment" system. It operates (mechanically) like a regular ball point but allows those of us who love the feel of fountain pen nibs to stay within our comfort zone. The best of both worlds in theory, and I gotta say I'm loving the clicky'ness.
The idea is that, as I think of something, I can immediately whip out the Vanishing point and in one fell swoop scribble down my masterpiece. All this without needlessly fiddling with those irksome screw top caps one frequently encounters with your more traditional fountain pens.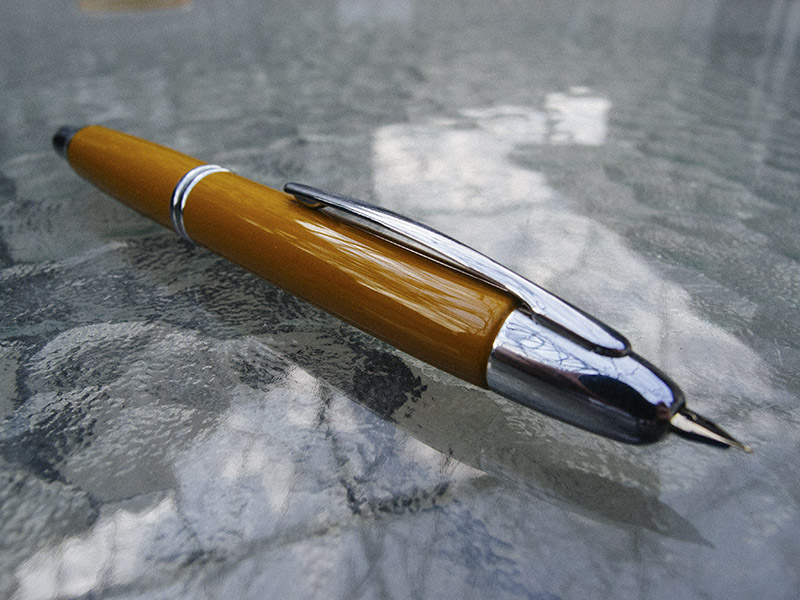 The first thing I will note is that the Pilot Vanishing Point is surprisingly expensive. From a technical standpoint, it's quite unique, which lends credence to its price point of $140. Unfortunately, the VP simply doesn't offer the same oomph that more traditional fountain pens tend to bring to the table based on aesthetic flourishes or the luxurious feelings one so easily associates with these writing instruments.
I am yet undecided if this is a boon or a con. For now, I am pretty happy about being able to scribble something down in public without feeling like a pretentious buffoon as I unscrew my over-sized ebonite fountain pens.
For the sake of daily usability I strayed from my general bias of the more artistic nibs like stubs & italics towards a more utilitarian fine point (as Pilot is Japanese their fine points are roughly equivalent to western XF).
It is shockingly smooth for such an acute tip and as of yet I don't have anything bad to say about it. It does lack flex (of any kind) so my initial impression is of a very high quality ball point that can be used with any ink you want. This sounds a bit boring and unremarkable, but I find value in owning something so basic and functional, so for its intended purpose, I consider my choice to be the right one.
Part of me does regret sticking with the fine nib. I think I may stray even further afield and test out an extra fine for novelties sake – we will see how this one plays out. Right now, I am still under the "its shiny and its new so I love it" spell.
So that's about it. I am trying my damnedest to get back into the swing of things and post regularly. I tend to over think what I publish online with regards to the content and who will read it, which really holds me back. If I focus on simply posting something semi-regularly it will become much more natural and hopefully a habit as opposed to something I feel the need to excruciatingly plan out and as a consequence self-censor.
Fingers crossed.