The girl & I have been fretting over the state of our garden for the past month. Portuguese households being quite fastidious when it comes to outward appearances (especially in our neighbourhood), it was quite depressing to deal with the unsightly mess the previous occupiers left us with. On that note, we kept seeing the same gardeners/landscapers work in our neighbourhood and after much hand wringing, we decided to jump head first and throw money at this problem.
I can happily attest that there is absolutely no way we could have done what they did with the level of speed, professionalism and forethought that they demonstrated. If you live in Cascais, PT (or the Greater Lisbon area) and need a recommendation, hit us up with the contact from and I'll happily send you the details of the landscapers we used.
On that note, let's discuss the state of our garden when we bought our house. In one word, it was a clusterfuck. The previous occupiers did not maintain a single blade of grass and consequently it was in piss poor condition with cigarette butts everywhere, uneven top soil, absurd levels of ant infestation (which we dealt with, more on this in another post) and in the words of our wonderful neighbour Gina, the state was; "Simply terrible, terrible."
All photographs were taken with my phone, the lack of visual quality glosses over the sheer carnage sadly, and unless you saw the place in person, you would not fully appreciate the sheer fuckery.
Some things to note: Our garden goes around the totality of our house. It's effectively an enormous patio with sections of enclosed top soil. As far as I can tell, this seems to be the standard in Portugal and frankly, it makes sense as maintaining a lawn during the summer months would prove excruciatingly expensive. On that topic, water is an issue and when discussing things with our gardening guide Gina, we went for an option that would be easy to upkeep with limited watering requirements.
We also wanted to deal with the issues concerning rotting fruit as we have 6 orange trees (I need this in my life) and the general superficial appearance of cleanliness. So, with a plan formed, we grilled our nearby professional Portuguese residents for optimal ways to achieve this and any other advice they could offer us.
Gina not only showed us around her garden, explained the pros and cons of various options (brita topping vs grass etc.), but literally took charge of the entire battalion of gardeners from the placement to shrubs and plants to the negotiations on price. I cannot put into words how grateful we are for her generous guidance and I can honestly say we would have been overwhelmed without her.
So, cleaning up was the initial battle. 3 gardeners quickly ripped up all the old crap alongside the extremities of our property which have garden banks, and go to work with adding weather resilient colourful stuff.
Rapido would be an understatement.
Above are 2 leafy things that will (or so I am told) become vine like and take over the wall. Naturally as this is the beginning and the base was formed from cuttings & a few plants that we purchased with the help of Gina, the full aesthetic end result is dependent on time. Come back in 6 months and I am sure the girl will have a staggering amount of photographs of our garden in bloom.
Lavender and a few other green things. Once again, resiliency & ease of maintenance being the name of the game.
The backyard itself went through some severe surgery. Giant rosemary bush had to be amputated somewhat and what I believe was a thyme was regretfully outright murdered. Once again folks, we are going for long term easy-mode cost efficient upkeep. We have contracted the landscaper to come twice a month and the more complex the garden is, the more escudos we will have to drop, thus our predicament. Not to mention the absurd cost of water.
I would share one of the monthly water bills but that would be cruel and unusual punishment.
3 leafy things + succulents ninja'd from our overly nice neighbours who decided that we were a hopeless charity case and thus pilfered their own botanical nurseries for our gain. Best people, much appreciate.
All cleaned up, 2 new plants and ready for the lazy-mode solution.

The girl, two of our neighbours & one of the landscapers debating what to do. I wisely stood back from this organic chaos and did very little beyond nod and query as to how a teensy cutting can take root and survive (nature is crazy).
At this point I began to suspect that my garden had become a pet project for the neighbourhood. None of the plants were mine, they just brought them over and gesticulated over correct placement, the sun and various other important factors (or so I am told).
The stuff above is referred to as brita; it's basically pretty gravel. We bought a few tonnes worth and the landscapers proceeded to tarp (it's a fancy gardening tarp that stops weed, but allows water) and cover everything with the stuff. It looks banging, requires little to no maintenance and allows us to spot the delicious oranges as they drop with ease, instead of forgetting about them and seeing the end result which inevitably would be mold and bugs.
Flowery stuff, I viewed them with suspicion as flowers equal thirsty as fuck to me, but I was placated by noticing that many people had those and I think complaining about the cost of water here is equal as a hobby only to football.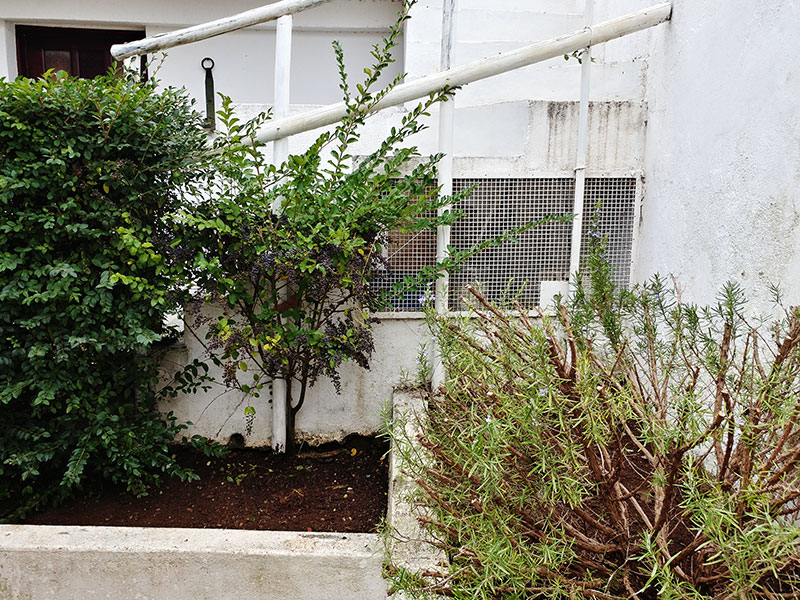 Because the garden was neglected for literally over a year, it was overrun. This wasn't a cosmetic touch up but a full on assault, once again once things are growin' in a nice controlled manner, I am sure it will look fantastic.
Yes, we covered the totality of the exposed top soil with that lining + brita. It's just so much easier and allows us to ignore watering requirements. Exceptions being the flower banks in the front, a sliver within the pathway and the herb garden next to the BBQ as you can see below.
For now this is all I have to say. Once everything is cleaned up and the green stuff has flexed its roots, I am sure it will look resplendent. Thankfully the girl and I have opted to hire the landscapers on permanent basis to maintain and protect the aesthetic congruency of this place and once it reaches as satisfactory standard, I am sure we will work more on the overall "prettiness."