The UK & Canada are superficially similar countries: common law rules supreme, and we both act like condescending parents to our southern neighbours. Beyond the cultural differences and the general lack of ambition/efficiency found in the UK, the most striking difference is the legal process for snapping up property.
In Canada, we spoke to a mortgage broker on the phone who confirmed we could have a mortgage as long as Elise's dad cosigned, made a firm offer with no prerequisites besides a home inspection (waived the financing clause), picked a date to move in and that was that. House was set to be ours once they accepted and signed the dotted line, and lawyers filed paperwork with no real risk of the seller being able to back out. We picked a date for the transaction to be done (two weeks in our case) and that was the date we'd have the house. Oh, and we had our own real estate agent (actually two of them) working for us – which I never thought would be an advertising point, but alas, here it is.
This will all sound very familiar to you if you are American, and in pretty much all ways, I think it is the superior system.
In the UK, things are very different. It's a wishy-washy process where it can feel for both the buyer and the seller that the power is all in the other person's hands.. on top of never really knowing when you're going to be getting your house in the first place.
The Process of Buying a Home in the U.K.
1. Find some properties that strike your fancy.
Find a couple cribs you dig, pretty much exclusively through your own research on RightMove.co.uk  – British equivalent of Realtor.com and Realtor.ca. Don't bother looking for a real estate agent to help – they don't exist for that purpose here. Realtors themselves are present just to sell houses – you don't get your own real estate agent if you're buying. British realtors are a bunch of lazy, backward muppets who don't deserve whatever commission they get, so keep this in mind. We personally contacted a slew of them, told them about what we were looking for, and asked about particular properties. All they do is sign you up to an e-mail list, even if they say they'll keep an eye out for properties that will suit you. If you expect them to work for you, expect to be disappointed. They will not even go so far as to hook you up with a place that suits all your criteria, let alone help you negotiate when it comes time to buy.
2. See the properties.
Book an appointment to see the properties you like. British realtors don't work on evenings or weekends, so expect this process to go very slowly. Also, because the realtor works for the seller alone, you'll have to book appointments with different realtors if the sellers are with different realtors. A headache, so I'd recommend checking to make sure that you're seeing all the properties you're interested in that are being sold by one real estate agency. And make sure you ask all your questions upfront, as if you're looking for a place that's move-in ready with no tenants and a place has tenants, that's one more place you can strike off your list without having to waste your time on. And believe me, tenants still in properties when the landlord is trying to sell is common as dirt – it's like people in this country don't want to sell their properties after all.
3. Make an offer.
Once you have found a place you like, reach out to the realtor who showed you the place and make an offer. The realtor will go back and forth between you and his client with two objectives in mind – getting the most money for his client (again, not you), but not so much that his precious time will be taken up or delays would happen. Remember, he still wants his paycheque as quickly and easily as possible. If you are planning to sell, I'd advise you to sell the place yourself. Yes, technically the real estate agent works for the seller, but considering there's a long list of other properties the real estate agency is trying to sell, there's no real personal element, and he's really only there for the promise of a commission – which is not necessarily achieved by selling your home at the price you want.
4. After the offer is accepted: realize the seller can back out.
When the seller accepts your offer you might think everything is groovy and you can kick back and relax – wrong. The seller can actually pull out with basically zero consequences whenever he feels like it. The house is yours once you send him the money – not before. Interestingly, the guy we bought our home from listed a "tempt me" offer on a website after he'd accepted our offer – to see if he could get more than we'd committed to. To be fair, this is legal, and you as a buyer have zero leverage, so it's not like I resent him (too much) for doing it – he was just looking after his own interests, within the scope of what's legal, as he should. My point of contention is how this system is allowed to continue in the first place – abusive is an understatement.
5. After the offer is accepted: realize you can back out, too.
To be fair, if you change your mind about buying the property you made an offer on and had accepted, there's also absolutely no legal issue with you backing away either. Apparently signing a dotted line committing to purchasing a property is not considered a very big deal in the U.K.. With either party having the ability to back away, it's a wonder anyone ever has any peace of mind in this country over buying and selling homes.
6. Go to a solicitor.
Whilst the seller can keep fishing for offers, you go to a solicitor who will charge you obscene amounts of money to read through a contract and see if its okay (not that he takes on any liability even if the contract is borked – you still have full responsibility over what you bought; and there are quite a few horror stories about what's been written in the lease). He also files some paperwork to the land registry – does some "searches" to figure out whether there were any environmental issues in the past or any upcoming work in the area or on the building in the future. All that he does can be done yourself in the span of one day and a few quid in fees, but naturally it will take weeks to months and will come at a hefty price tag of a thousand or so pounds.
7. Wait.
Notice I didn't say anything about picking a closing date. That's because there is none. Sorry. You'll get your house when the solicitors are finished. Three weeks, three months, three years? All possible – you don't get to decide when everything's done. Not a chance.
8. Get a survey done.
You can also get a survey done. In Canada, this is a must (my opinion), and in the UK, if you are buying a home that isn't in a building, it's a good idea, too. Our survey was utterly useless. We went to a chartered surveyor who just walked in, scribbled down that the place looked good, but we might want to renovate for aesthetic purposes (I kid you not, this was included in his survey), and then walked out. No tests, nothing.
As par for the course in the UK, we were also obscenely charged for this "service". Utter waste of time. I recommend, if you are buying a flat in an apartment, going in person, buying a humidity meter, and firing questions at the management company, and if possible, taking a gander at the roof yourself. There isn't much to it, and this being your own money at stake, you will most likely do a better/more thorough job than a surveyor.
9. Keys?
Finally, once your solicitor decides everything's okay and has charged you tooth and nail for everything possible, you finally get to send the money for the house to him, and your home is now yours.
10. Move in.
Notify everyone (council tax, utitlies etc.) and move in.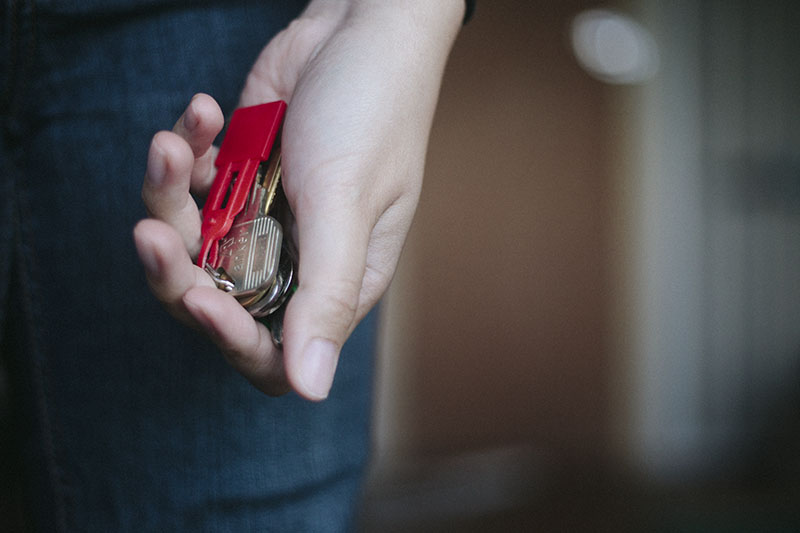 Notice I missed anything? Yeah, this whole she-bang happened with not even a mention of getting a mortgage. Because we didn't get one. That would've been an extra 10 steps, and one we wouldn't have been so "lucky" to have gotten to go through thanks to the fact that we're self employed. The British banks hate the self-employed, don't you know? And not in the Canadian "it's a pain in the ass" kind of way, more along the lines of, "we will make your life hell with paperwork and still probably won't give you a mortgage," kind of way.
Oh and we had no chain. Our seller was not prior committed to selling his home before we could buy this one. That knocked 3 months to 3 years off this transaction.
When we walked into the solicitor's office four weeks in, the week before all was said and done and he said things should be wrapped up the upcoming Thursday, he said, "There, wasn't so slow was it. Went by pretty quick?"
Yeah, no. We bought our house in Toronto – with a mortgage – in two weeks. So no.
All in all, this broken system is endemic to how things are managed in the UK. People grow up in this broken society and think it's totally normal, even reasonable, and don't complain. Many have even lost properties when the seller has accepted a better offer, an offer for more money or from a person who came without a chain clause. And yet no one stops to think – maybe this shouldn't be legal?
On the flip side, if you are smart and aggressive you can exploit the absolute shit out of this system. Flipping houses is fantastic here if you are okay getting your hands dirty, and people are so scared of negotiation that you can brow beat them into submission. If I had to do it over again, I wouldn't bother with a solicitor or a homeowners survey, and would've saved about 5K in the process.
Live and learn.